Vibratory Screens, Circular Vibratory Screens, Circular Motion Vibrating Screens, Vibrating Screens, Manufacturer, Supplier, Exporter, Service Provider, Pune, Maharashtra, India. Majorly we export our products to customers from Gulf, Asian, African countries like Saudi Arabia, Doha, Bahrain, Kuwait, Oman, Muscat, Iran, Turkey, Yemen, Lebanon, Afghanistan, Bangladesh, Bhutan, Brunei, Burma, Cambodia, China, Hong Kong, Indonesia, Iraq, Israel, Japan, Jordan, Kazakhstan, North Korea, South Korea, Kyrgyzstan, Laos, Lebanon, Malaysia, Maldives, Mongolia, Nepal, Pakistan, Philippines, Qatar, Singapore, Sri Lanka, Syria, Taiwan, Tajikistan, Thailand, Timor-Leste, Turkmenistan, UAE (United Arab Emirates), Uzbekistan, Vietnam, Yemen, Egypt, Algeria, Ghana, Ethiopia, Nigeria, Congo, Uganda, Kenya, Sudan, Tanzania, Zambia, Angola, Zimbabwe, Namibia, Mozambique, South Africa, Mauritius etc.
Vibratory Screens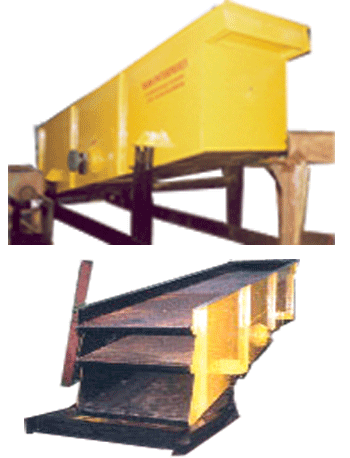 Circular vibrating screen or round vibrating screen is a multi-layer, highly efficient and new vibration screen machine that moves on a circular motion. It adopts drum eccentric shaft exciter and eccentric block to adjust the vibration amplitude, so that the screening line is long and the screening specifications are more. Since it has such features as reliable structure, strong exciting force, high screening efficiency, low vibration noise, long service life, convenient repair and safe use, circular vibrating screen is widely used for the product classification in mine, building material, transportation, energy and chemistry.

Circular motion vibrating screen is mainly composed of screening box, exciter, hanging device and electromotor. The electro motor drives the principal axis of the exciter rotate through v-shaped belt, and under the centrifugal inertia force of the unbalanced materials on the exciter, the screen box will gain vibration and it can gain different vibration amplitudes through changing the eccentric block of the exciter. It can be divided into block type and-hang type. It is Often slantly installed with an angle of ISO -30o to accelerate discharging.

Main Advantages
1.The strong vibration of the screen box reduces the phenomenon that the materials block the screen hole, so that the circular vibrating screen has high screening efficiency and production efficiency.
2.The circular motion vibratory screener has simple structure and the dismantling and Changing of the screen surface is convenient.

Yash screens for scalping, separating and sizing aggregates, minerals and coal come in several different types and a wide range of sizes. Products include robust vibrating grizzlies and scalpers, and inclined screens. We offer individual units and complete systems, as well as expert advice on choosing the right screen for the job

Technical Specification


| | | | | |
| --- | --- | --- | --- | --- |
| Model | Screen Size | Deck | Motor H.P. | Capacity |
| YV 84 | 8'x4' / 2500* 1250 | 2-4 | 5 | 12-15 |
| YV 104 | 10'x4' / 3050*1250 | 2-4 | 5 | 18-24 |
| YV 124 | 12'x4' / 3650* 1250 | 2-4 | 10 | 35 - 40 |
| YV 125 | 12'x5' / 3650*1510 | 2-4 | 12.5 | 45 - 50 |
| YV 145 | 14'x5' / 4500*1510 | 2-4 | 15 | 75 - 95 |
| YV 165 | 16'x5' / 4800*1510 | 2-4 | 15 | 100 - 120 |
| YV 185 | 18'x5' / 5450*1510 | 2-4 | 20 | 120- 150 |
| YV 205 | 20'x5' / 6100*1510 | 2-4 | 20 / 15 | 175 - 220 |
| YV 206 | 20'x6' / 6100* 1800 | 2-4 | 25 / 30 | 200 - 250 |

Our vibrating screen is extensively used to grade and screen those materials in different fields such as building construction, quarry etc. These vibrating screens are highly efficient as they perform the job of screening bulk materials based on different classification. They even have the ability to separate stones that are crushed based on their sizes.
We also offer different types and sizes of these screen based on our client requirements. Our heavy duty vibrating screen has the ability to screen and classify huge materials based on their sizes while our light duty screens can screen and categorize tiny and mid sized materials.

Features of our Vibrating Screens
Our vibrating screen series are constructed with heavy weight to render its activities with strong force. We have connected both the main body parts and crossbeam using the screw bolts with immense strength. This would explain why our vibration screens have an elegant and simple to use structure which is also easier to maintain. We also make sure that our vibrating screen side body and deck stays connected with sturdy huck bolts which are known for their ability to hold strongly.