Loader Bucket, Bucket Loader, Bucket for Loader, Bucket Loader with Teeth, Loader Bucket Repair, Bucket Loader for Sale, Skid Loader Bucket, Manufacturer, Supplier, Exporter, Service Provider, Pune, Maharashtra, India. Majorly we export our products to customers from Gulf, Asian, African countries like Saudi Arabia, Doha, Bahrain, Kuwait, Oman, Muscat, Iran, Turkey, Yemen, Lebanon, Afghanistan, Bangladesh, Bhutan, Brunei, Burma, Cambodia, China, Hong Kong, Indonesia, Iraq, Israel, Japan, Jordan, Kazakhstan, North Korea, South Korea, Kyrgyzstan, Laos, Lebanon, Malaysia, Maldives, Mongolia, Nepal, Pakistan, Philippines, Qatar, Singapore, Sri Lanka, Syria, Taiwan, Tajikistan, Thailand, Timor-Leste, Turkmenistan, UAE (United Arab Emirates), Uzbekistan, Vietnam, Yemen, Egypt, Algeria, Ghana, Ethiopia, Nigeria, Congo, Uganda, Kenya, Sudan, Tanzania, Zambia, Angola, Zimbabwe, Namibia, Mozambique, South Africa, Mauritius etc.
Loader Buckets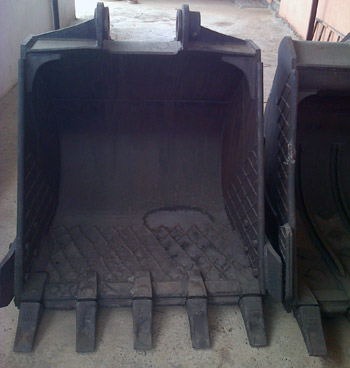 We manufacture various types and capacity of buckets like Excavators buckets, Loader buckets, Mud buckets, Digging buckets etc. Our buckets are available in suitable sizes for 3, 6, 12, 20 & 30 ton excavators, width from 500 mm to 1250 mm.
Spare Parts: We provide all spare parts like Pin Bush, Tooth Holders, Tooth Points and Side Cutters as per various makes of buckets.
Bucket Repairing : We rebuild and repair Excavator, Loader, and Backhoe Buckets with new steel and welding. Excavator buckets can fail due to corrosion or due to heavy usage that literally wears away the steel or breaks the welds. This excavator bucket is used in a gravel pit. A new rock bucket can cost in hundred thousands of rupees, repairing an existing rock bucket is always an option. And we are expert in repairing as to match original bucket.
The bottom of the bucket has already been cut out and will have to be replaced with harden steel on which the new tooth shanks will be welded. Abrasive resistant steel (Hardox 400) offers much better wear resistance than the mild steel. We guarantee the highest standards of technical advice and manufacture and repair of all types of buckets on the basis of a genuine and realistic relationship with clients.